In recent years at GET we have developed many applications for various local authorities, providing high quality services for the creation and technical support of applications that meet the daily needs and technical requirements of the Municipalities.
All projects are based on the creation of Spatial Data Infrastructure (SDI) which is the basis on which various vertical applications have been built, such as that of urban data management. SDI provides what we believe is the essence of every effort to modernize a Municipality and integrate them into the digital age and this is nothing more than the need to acquire a common operational picture.
GET provides the implementation of urban data management in several Municipalities. An example is the Municipality of Heraklion, Crete.
The great response, of the solutions that we develop by professionals, has as a result an extremely high visitation of the application and therefore reduces the need of on site appointments with the Municipality since the access t the necessary information is provided dynamic through WMS, WFS services.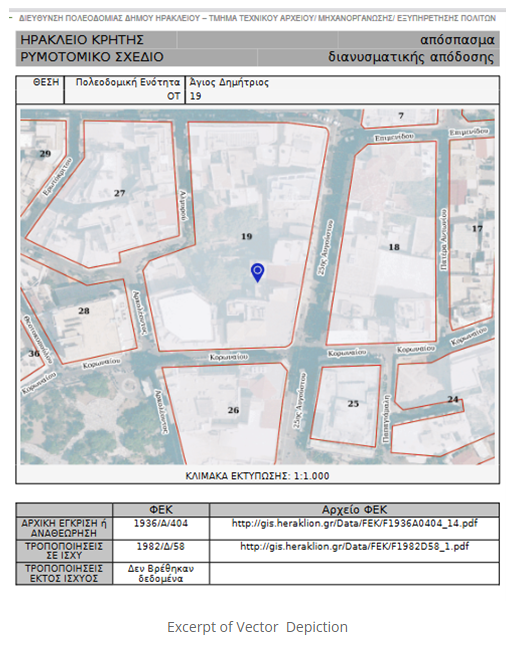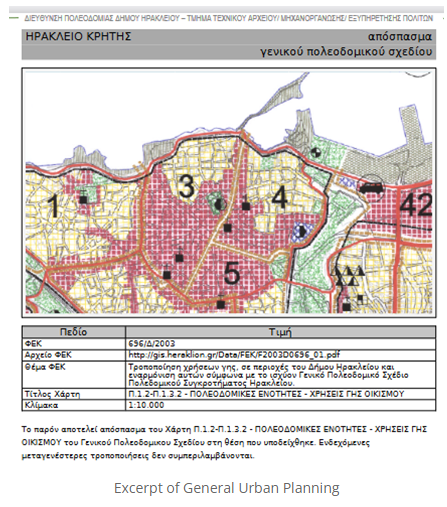 Indicatively, follow the traffic data of the solution that has been developed for the Municipality of Heraklion. From the 1st of January 2017 until the 2nd of December 2021 the application has received 296,158 visits while it has 49,116 unique users.
The features of our solution are:
They are based on FOOS Software therefore the Municipality pays only for the services related to the implementation in depth of two years making the solution extremely attractive and economical.
They expand and utilize existing infrastructure and existing data and therefore it increases Desktop and field jobs.
They provide new web services to Engineers, dramatically reducing the visitation time to the Municipality. The applications incorporate a total of more than 12,000 levels of information and 30,000 items (original diagrams, Government Gazette, etc.). Some indicative applications are:

Issuance / Printing of an Excerpt of Land Uses of a General Urban Plan

Issuance / Printing of a City Plan Excerpt

Register of Implementation Diagrams

Printing a Certificate for the permissible use based on the GIS / Open City Spatial and Housing Organization Plan

Interface with e-Licenses (TCG)

They harmonize the Municipality with the Inspire directive and law 3882/2010
They manage all data in a unified and transparent manner (e.g. general and local road plans, urban plans and modifications, building conditions and uses, implementation acts, public and common areas, streams, settlements, archaeological zones and building permits) and enrich the infrastructure with freely available data
Hosting capacity for remote infrastructures under flexible business model – SaaS
The following Municipalities of Agia Paraskevi, Agios Nikolaos, Agrinio, Athens, Maroussi, Gortynia, Zitsa, Igoumenitsa, Heraklion, Thermi, Thessaloniki, Ilion, Kalamata, Keratsini – Drapetsonas, Corfu, Mandra – Eidyllias, Naxos, Papagou – Cholargou, Piraeus, Pyli, Rethymno, Chalandri and Chania are indicative examples of Municipalities that use our solutions based on Spatial Data Infrastructures and while they recognize the reciprocal benefits, they reinvest in their development.