Spatial Data Infrastructure for Agios Nikolaos Municipality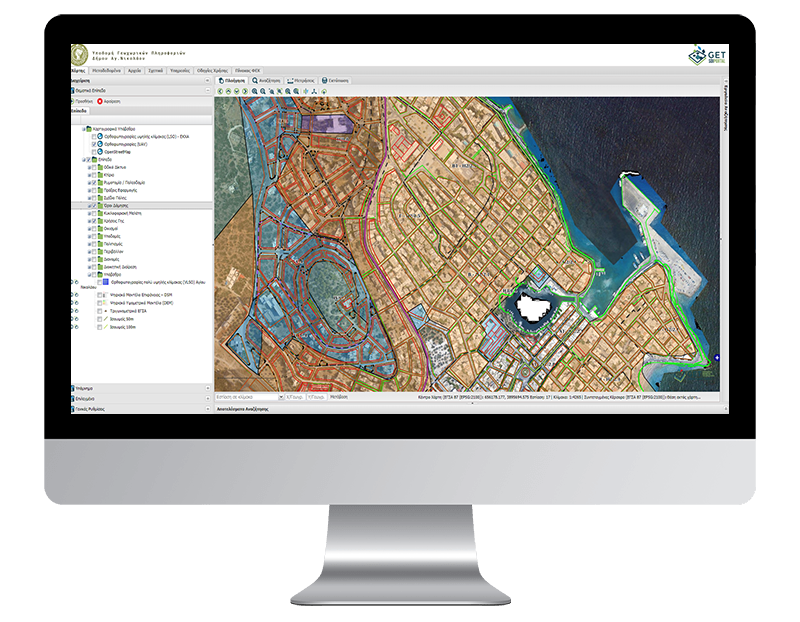 PROFILE
Name: Agios Nikolaos Municipality
The Municipality of Agios Nikolaos is a municipality of the region of Crete that was established with the Kallikratis Program and the capital of the Prefecture of Lassithi. It arose from the merging of the pre-existing municipalities of Agios Nikolaos, Naples and the Community of Vrachasi. The area of the new Municipality is 511.99 sq.km and its population is 27,074 inhabitants according to the 2011 census. The seat of the new municipality was Agios Nikolaos and the historical seat was Neapoli.
Website: https://www.dimosagn.gr/
The Municipality of Agios Nikolaos, in the framework of its strategy for the provision of upgraded and quality services to all citizens, professionals and Public Administration bodies, invests in digital technologies and innovative solutions.
In order to cope with these responsibilities, the Municipality of Agios Nikolaos set as priorities:
the transition to digital management,
the development of value-added electronic services,
coordination and improvement of internal service procedures.
 The main purpose of the project is to create a spatial data infrastructure with a horizontal character, which is a tool for documenting, identifying and highlighting problems / contradictions, planning and decision-making for all issues related to the geographical area.
As part of the project, a geographical database was developed with urban data, infrastructure data (Ports, parking spaces, etc.) but also backgrounds (LSO EKXA, UAV, etc.). The contents of the database are accessible via Web interface, allowing (classified where required) the viewing and retrieval of information.
Those interested have the opportunity to receive information regarding the urban organization, infrastructure, points of interest. The infrastructure includes items that cover 37 Thematic Categories. More specifically, the data relate to:
Road Network
Buildings
Road Planning / Urban Planning
Implementing Acts
City Plan
Building Conditions
Traffic study
Land Uses
Settlements
Infrastructure
Culture
Environment
Distributions
Administrative Division
Backgrounds
The project is an excellent example of open governance, transparency and democracy, as it freely disseminates information. It is also noteworthy that it has been developed exclusively with the use of open source software, eliminating the cost of acquiring software licenses (zero cost), but also dramatically reducing its development and maintenance costs.
TECHNOLOGY
PostgreSQL
PostGIS
Quantum GIS (QGIS)
Geoserver
GeoWebCache
Geonetwork Opensource
GET SDI Portal
Do you need help with a similar Project?