GET participates in the implementation of the research project with the title "Integrated System for the Spatial Decision Support and Participation", acronym ppCity, project code: Τ1ΕDΚ-02901 and MIS code 5029727 under the framework of the Action "RESEARCH – CREATE – INNOVATE" of the Operational Programme "Competitiveness Entrepreneurship Innovation" (EPAnEK 2014-2020), Partnership Agreement 2014-2020.
The project is co-financed by the European Union and the European Regional Development Fund
Members of project consortium are:
DOTSOT S.A.
GEOSPATIAL ENABLING TECHNOLOGIES
COMMONSPACE
SOCIALITY
The project aims at the development of an Integrated Spatial Decision Making & PP system for designing and monitoring projects and other actions at different scales (neighborhood-wide or/and city-wide), centered on citizenship, environment and quality of life. The engagement and participation of the "general public" and the users of the public space is essential for the whole process. The above-mentioned system consists of three (3) platforms for management, interaction and analysis. The final product is a modular system. The core is the PP platform, with the other two supporting and reinforcing it, but also being able to stand-alone. Moreover, infrastructure to integrate data from IoT sensors will be developed.
During the project, the project team will develop:
Platform 1 – Data Collection & Identification of Problems. The basic infrastructure that gathers the needed data for the operation of the planning and decision-making process. The purpose of this platform is to gather and to manage environmental and quality of life city data. It works practically as a data hub: It exploits existing data and services through interoperability procedures, allows the enrichment of the hub with new data sets and supports sharing and reusing through the web.
Platform 2 – Participatory Planning / ppGIS. It is a unique system of participatory planning & design implementation including several innovative features. The platform provides tools, knowledge and concrete steps for equal and meaningful participation of citizens and users. The proposed projects and actions are "forwarded" to the users through a targeted and structured communication campaign to ensure increased participation of appropriate population groups. It also supports processes for the analysis and selection of appropriate design solutions, proposals and ideas. Multicriteria analysis algorithms prioritize interventions as well as the weight of the participants' opinion, who is invited to participate in all the phases of the process.
Platform 3 – Monitoring Indicators / Dashboard. This platform acts as a tool for monitoring and evaluating emerging issues and possible solutions. It contains an extensive pool of life quality indicators based on European standards. It is a valuable tool for analyzing the "state of the art" of a municipality: It produces comparable results, quantitates quality data, and supports each organization / institute / body in its strategic planning as well as in funding and monitoring the implementation of programs and projects.
Unified System. It aims at completing the three subsystems, operating control and producing documentation of the integrated system.
Through this project, collaborating companies will incorporate new knowledge and innovation into the services and products they already provide. Therefore, the project will strengthen them by increasing their competitiveness and research potential while creating benefit and new employment. Furthermore, the project can work as an active link between research and economic growth / social needs, thus contributing positively to the national economy and Greek society's well-being.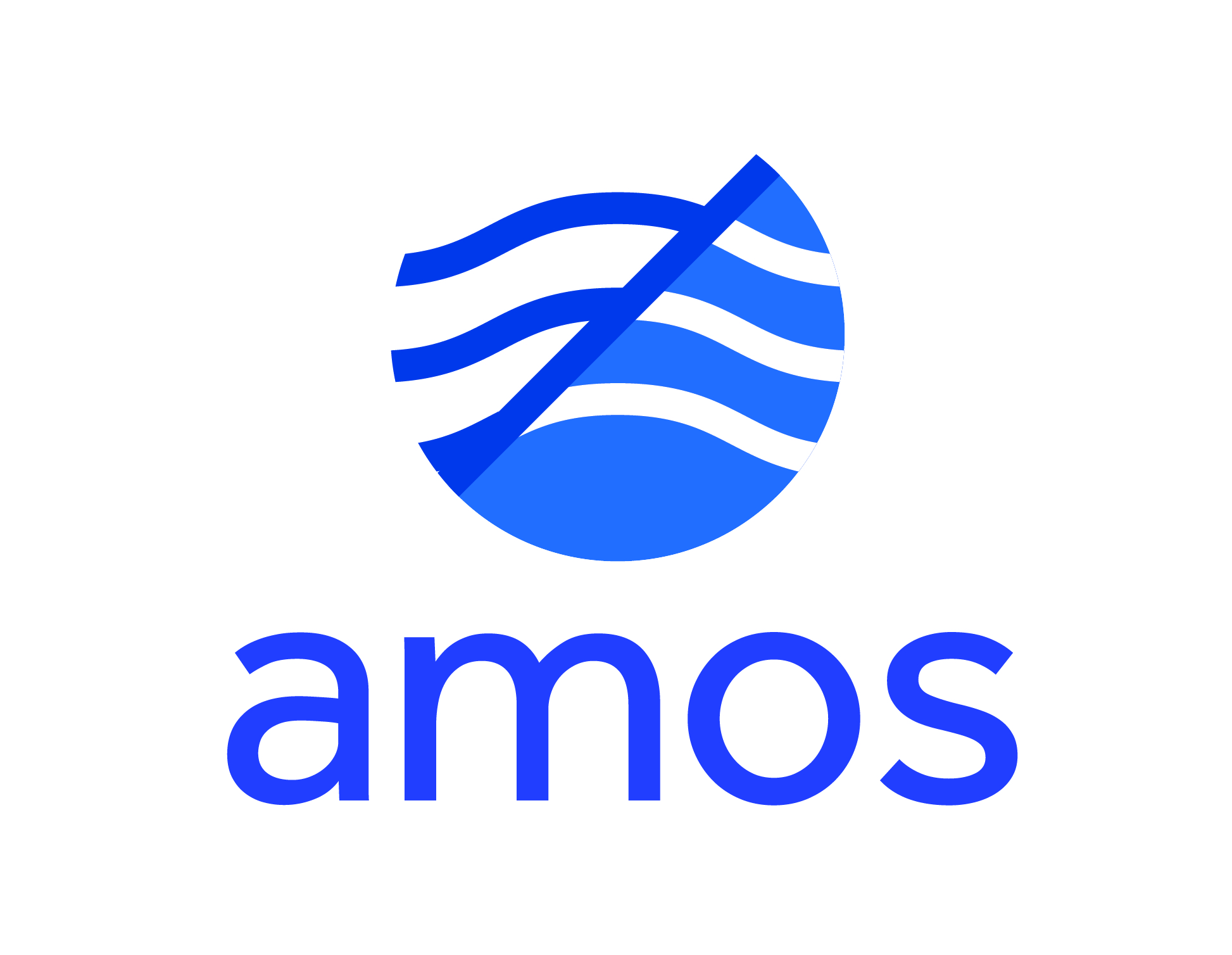 GET is funded for the implementation of the research proposal «Shallow Water Aquatic Monitoring using Acoustic Sensors and Satellite Images (AMOS)» under the program "NEPTUNE: New Cross Sectoral Value Chains Creation across Europe Facilitated By Clusters for SMEs' Innovation in Blue Growth" which has received funding by the research and innovation program of European Union, Horizon 2020 (No. Of grant agreement: 691554), in which Greece participates with Corallia.
GET proposal was submitted in cooperation with French company Semantic-TS. The proposal is about the development of an innovative system for monitoring aquatic environment (Bathymetry and classification of marine ecosystems, recording of fishing potential) of coastal water. The system will be based on acoustic monitoring technology by Semantiv – TS for this project, it will be adapted into USV system, offering capacity to easily collect data even in very shallow water. These data will be integrated into the innovative platform for geospatial data diffusion of GET where additionally open satellite data Sentinel or other free earth observation data, like  Copernicus, will be provided.
The platform will be developed exploiting GET's technical expertise in open data and disposal/projection of spatial data. Specifically, technologically the solution will be based on open source software GET SDI PORTAL.The solution will be tested in pilot process in French and in Greece. The results will be accessible for the public via the web application which will be developed for this reason.
GET is, since 2015, member of the si-Cluster,the Greek dynamic and constantly developing gold labeled cluster activated into space technologies, participating in actions for the development of sustainable products into space technologies and applications.
NEPTUNE PROJECT has received funding by the European Union's Horizon 2020 Program under Grant Agreement 691554
Study on the relation of radioactive pollution and satellite observations of marine parameters and comparative analysis on a Geographic Information System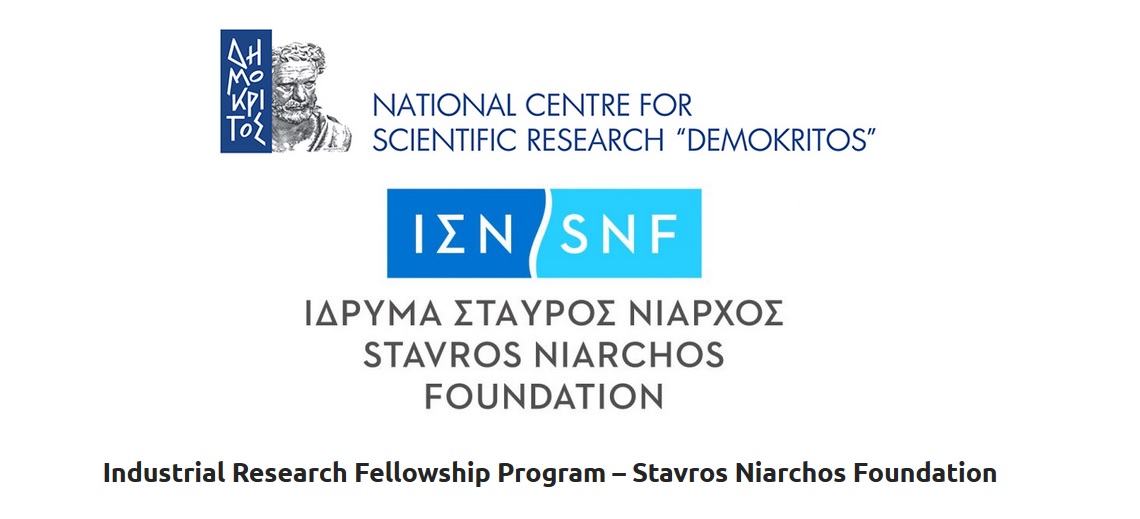 GET participates at the Industrial Research Fellowship program of National Centre for Scientific Research "Demokritos" supporting the doctoral research of the PhD candidate Georgia Mavrokefalou for the implementation of the project "Study on the relation of radioactive pollution and satellite observations of marine parameters and comparative analysis on a Geographic Information System". GET in cooperation to the Environmental Radioactivity Lab, with Dr. Eleni Florou as supervisor researcher, and the Aristotle University of Thessaloniki, supports the new researcher Georgia Mavrokefalou at the 4 years Research PhD program with industrial orientation.
Through the program, the researcher will carry out her research in an innovative research field, where her results apply and give solutions to industrial problems, reinforcing in this way Research Department of small and medium-sized – and not only –  enterprises in Greece, and promoting their competitiveness in national and European level.
GET supports doctoral research of Mrs Mavrokefalou who will carry out a research program directly connected to the interest of GET in Environmental Geo-Informatics.
The Industrial Research of Fellowship program is implemented under the generous donation and support of Stavros Niarchos Foundation (SNF). The program is an institution highly prevalent in Europe the last years due to the advantages presented in relation to purely academic ones, such as access to industrial scale equipment and environment as well as job prospects thereafter.
GET participates at the new Research project SLIPO: Scalable Linking & Integration of Big POI Data under the Horizon 2020 frame. Partners for the implementation of the project are :
You can see here the project's information leaflet.
SLIPO's objective is to develop a comprehensive and vendor-agnostic ontology for POI data, allowing to model and represent multi-faceted and enriched POI profiles. This accommodates and extends existing POI formats, providing a uniform and semantically-rich model for assembling POI data from heterogeneous sources.
For further information please visit project's website: http://www.slipo.eu/
This project has received funding from the European Union's Horizon 2020 research and innovation programme under grant agreement No 731581

GET participated at the reconstruction and the development of the new www.geodata.gov.gr application as part of the research project PublicaMindi. The projects has been successfully completed and funded by the 7th Framework Program. Our partners in this project are:
Institute for the Management of Information Systems of the "Athena" Research and Innovation Centre in Information, Communication and Knowledge Technologies
Rasdaman
GeoLabs
Basic objectives of the project were:
Extension of open data catalogues for integrated publishing support, geospatial data lifecycle diligence and management,
Tools development and integration permitting multilinguality interconnection and management regarding geospatial data in cross-borders framework
Scalable/expandable technologies and services for on-demand creation and reuse of maps with the use of open geospatial data
Analysis services development for the accurate control of open geospatial data use, scalable/expandable technologies and reusable data APIs development for querries support and open geospatial data editing and analysis.
The development of the project was based exclusively on Free and Open Source Software and the architecture is presented below.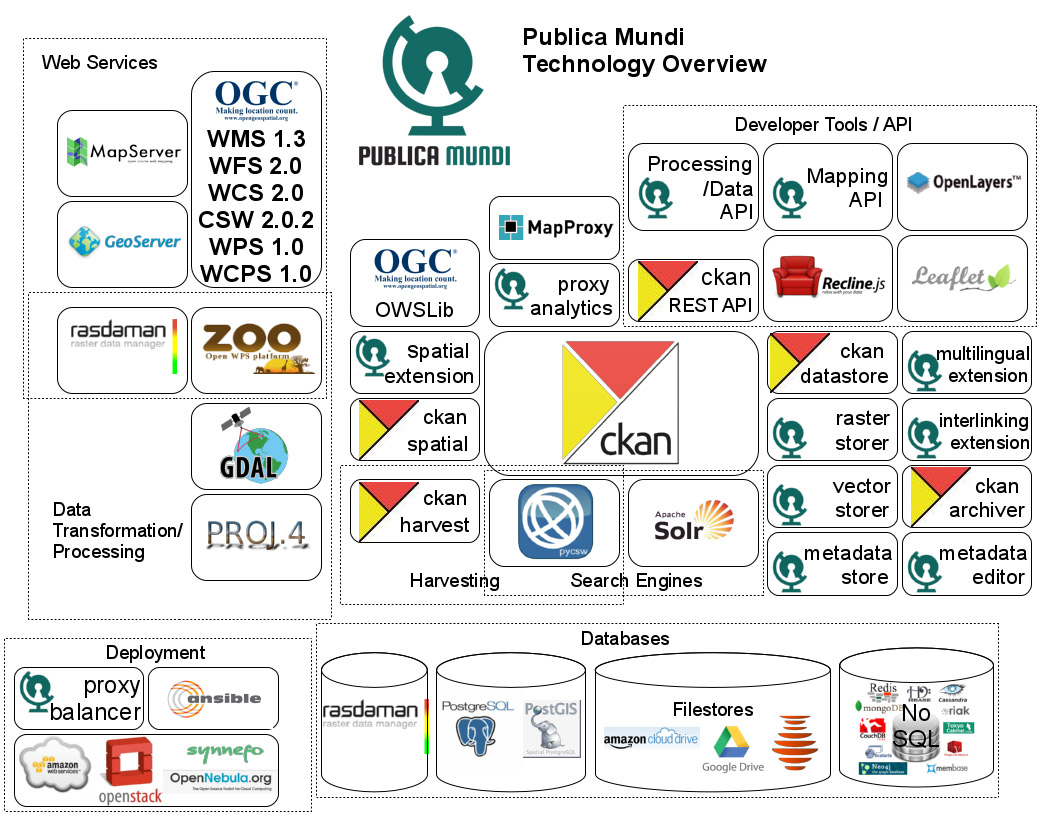 This project has received funding from the European Union's FP7 research and innovation programme under grant agreement No 609608
GET participated at the research project "City Water Management Systems and Water Distribution Network Monitoring – AquaNet" (code 11ΣΥΝ_6_925) of the General Secretariat for Research and Technology under the framework "Cooperation 2011 – Partnerships of Production and Research Institutions in Focused Research and Technology Sectors" of the Operational Programme "COMPETITIVENESS AND ENTREPRENEURSHIP".
Our partners for this project were:
Telecommunications Systems Institute (TSI) of Technical University of Crete ( TUC)
Radiocommunications Laboratory (RCL) of Physics department of Aristotle University of Thessaloniki (AUTH)
Zalikas Liontas Techniki
Municipal Enterprise of Water and Sewage of Chania
The project aims to develop a low-cost and large-scale pilot WSN for water management that will be able to augment the existing monitoring and management functionality of the Municipal Enterprise of Water and Sewage of Chania (DEYAX). Particular emphasis will be given on cognitive radio principles, not currently supported by commercial Zigbee-based WSNs and relevant standards. Such an approach is crucial for successful large-scale, city-wide deployment, given that the license-free Industrial Scientific Medical (ISM) frequency bands are usually crowded.  The consortium will exploit its significant know-how on renewable energy sources, both solar and wind, in order to design autonomous micro-powering of the installed radio terminals and sensors.  Furthermore, the project spearheads low-cost sensors appropriate for water level. It is remarked that existing level sensors are usually of high cost and imported. Moreover, the consortium will capitalize on its award-winning experience on in-network processing of acquired (sensed) data, including periodic or streamlined (aggregate) measurements. In-network processing offers intelligence in the system, while reducing the required communication bandwidth, since redundant information is not re-transmitted. Furthermore, the offered in-network intelligence will simplify the design of sensors, significantly reducing their cost, and will offer resistance to sensor outlier readings. DEYAX will offer the fertile experimentation ground, since a subset of their watering  system, including storage/distribution tanks and pipes will be networked with the proposed system. Concrete quantification of the benefits will be performed in conjunction with other WSN-free  parts of the watering infrastructure. It is remarked that DEYAX and members of the AquaNet consortium have already successfully collaborated in other applications.
Project's website is: http://aquanet.tuc.gr/
For this project, GET developed application which offers access to project's geospatial data. Moreover, the application which works as an application client for geospatial data services based on open standards. Basic features and functions are:
Compatibility with global and widespread used geospatial information standards, like: WMS, WFS, WFS-T, WMTS, CSW
Multiple different services integration on the same map
View, download, search and analysis functions
Metadata catalogues searching
Application development was based on GET SDI Portal.